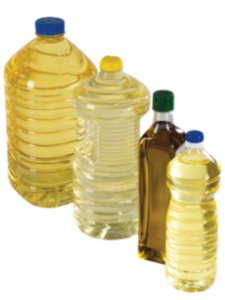 Electronic
Technology : Weight or Mass flow
Speed : from 4 500 to 40 000 bph 
Volume : from 80 ml to 5 litres
Containers : PET, HDPE, Glass
Configuration : Stand alone, Monobloc or Combi
Edible Oil
All types of edible oils: groundnut, rape seed, olive, sunflower, etc.
A growing number of different sorts of oils are now being used within a dynamic world market.
Olive, sunflower, groundnut, soybean, rape seed or sesame seed oil, in either their virgin or refined forms are a major ingredient in all types of cooking. Far from being a simple consumable product, edible oils provide several nutritional benefits to consumers. With its experience in this area, Hema commits to preserving and respecting its integrity.
The characteristics of edible oils are variable, depending on the type of oil, for example, to what degree their viscosity is temperature-dependent. Hema offers customised filling & capping solutions that are adapted to these parameters.
Autonomous, synchronised or integrated within a complete line and for either glass or plastic containers (PET, HDPE), Hema fillers offer a range of filling technologies such as weight filling or mass flow, in addition to various capping configurations (screw-on or snap on caps).
With the efficiency of your operations in mind, we can also provide options such as: nitrogen dosing, end of line trough, feeder and neutral oil rinsing controls, etc., and also washing, to guarantee hygienic filling.
Hema knows best how to accompany you through every stage of your project.
Learn more about our solutions!